Tips and Tricks to Increase Google Drive Space without Upgrading Your Plan
If you have a Google account and use it often, then Google Drive is the most logical Cloud storage choice. Google generously gives you 15GB for free, which is quite a lot compared to other free services. But what to do when you get close to exceeding that limit and don't want to buy a subscription just yet? Here are some tips and tricks to increase Google Drive space for free.
Do a Google Drive Storage Inventory
The first thing you should do is review what you have on your Drive and delete the files you don't need anymore. Chances are that you're storing quite a few outdated files you could safely delete. To check which files are occupying the most space, open https://drive.google.com/drive/u/0/quota in your browser. The largest files will be at the top of the list.
Another thing you should do is check your Google Drive storage for duplicate files. Doing that can help you free up a hefty amount of space.
Upload Videos to YouTube
If you store video files on your Google Drive, then you can recover tons of space by uploading the videos to YouTube and marking them either Private to prevent others from accessing them or Unlisted to be able to share the URLs with your family, friends, or team.
Use Google's Own File Formats
The beauty of Google Drive is that you can upload files in their original format without having to convert them. But if you want to increase the free space on your Drive, store documents in Google's native formats (Docs, Sheets, Slides, Drawings and more) because Google gives free unlimited storage for these formats. Put simply, posting files in Google's own formats will not use up your Drive space quota, leaving you more space for other files. This is true for email attachments as well.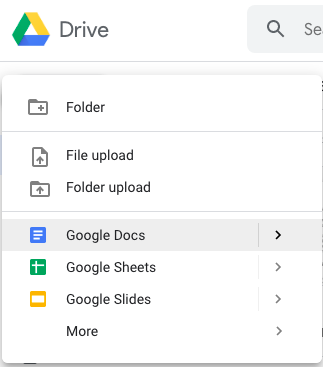 Use Google Photos
Do you back up your photos on Google Drive? High-quality photos take up a lot of space but they don't have to. Instead of adding your photos to the Drive, use Google Photos. With Photos, you get unlimited cloud storage space for your albums plus automatic organization for your shots. Google Photos allows you to back up images of up to 16MB in size each, and up to 1080p HD quality.
If you think that your photos might be larger or in better quality, go to Google Photos' Backup & Sync settings and restrict the upload size to high quality.
Don't Add Shared Files to Your Drive
When other people share Drive content with you, that content doesn't occupy any of your storage space unless you choose to add that content to your Drive. If you want to save space, don't download shared files to your own Google Drive unless you absolutely have to.
Empty Google Drive Trash
One of the easiest ways to increase Google Drive space is to empty Trash. Items in your Trash still occupy space but don't worry, it's easy to clean them out:
Open Google Drive and click on Trash in the left sidebar
Click on the arrow next to the word Trash and click on Empty trash

Confirm your action
Clean Up Gmail
Did you know that your Gmail emails and attachment take up storage space on your Google Drive? Cleaning up your Inbox, Spam and emptying your Gmail Bin is an excellent way to free up Drive space.
To remove unneeded emails with large attachments:
Type "has:attachment larger:10M" without the quote marks, then click on the Search icon
Select the emails you don't need and click Delete
In the left sidebar (the one where you have Inbox, Sent, etc.) click on More and click on Bin
At the top of the Bin page, click on Empty Bin now and confirm your action
We hope that you've found these tricks to increase Google Drive space useful and recovered enough storage for the files you really need.
Try a Duplicate File Finder
If you're short on time or if the tips above don't resolve 100% of your problems, you can remove Google Drive duplicates quickly with Easy Duplicate Finder. Our easy Google Drive duplicate finder identifies and removes true duplicates in just a few clicks. Free up valuable space, save time, headache and money.
Get Easy Duplicate Finder for Windows and Mac today to start organizing your Google Drive account.