Duplicate Email Finder
Delete Duplicate Emails & Organize Your Mailbox Today!
Do you find yourself wasting time searching through hundreds of duplicate emails? Is your mail client running slow?
Try Easy Duplicate Finder's duplicate email finder to clear up your mailbox and keep everything running efficiently.
Duplicate emails not only clutter your mailbox but can also cause embarrassment when you start bombarding your co-workers and friends with identical or almost identical emails.
Easy Duplicate Finder works with email clients such as Microsoft Outlook and Mac Mail, helping you to easily eliminate duplicate emails. Your email client saves your emails and contacts to file, allowing EDF to scan the files and delete the duplicates. Its smart technology detects duplicates by swiftly and accurately checking email subjects, dates, recipients or senders, body sizes, and contents of the emails. This ensures you will not delete any important emails.
To enable Duplicate Email Finder, simply select the Email Mode in the Scan Mode drop-down menu. This will activate Easy Duplicate Finder's email search algorithm. Add your email folders to the scan area and start the scan. Once the scan is complete, you will be able to review the results and select the duplicate emails you wish to delete. Selecting them is as easy as clicking on the pencil icon and choosing the bulk selection option that works best. Then click on the bin icon button and remove duplicate emails in one go. It's as easy as that!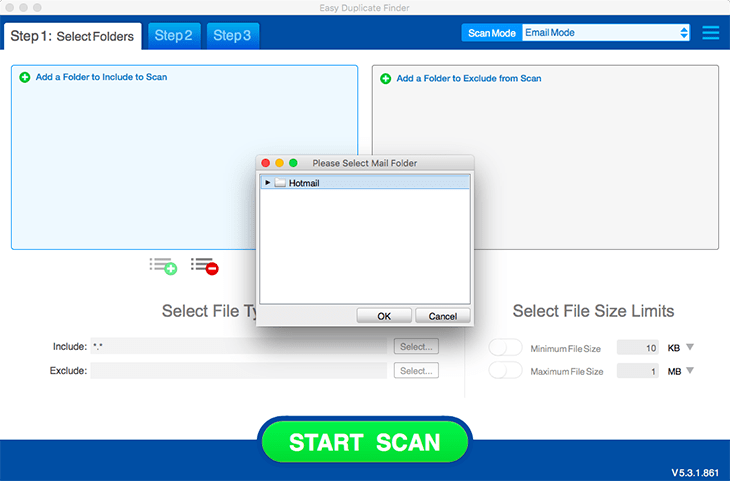 BENEFITS:
Organize your emails & contacts
Save mail storage space
Minimize the time needed for email searches
Recover disk space
FEATURES:
Compares emails by subject, sender/recipient, date, body size, and content
Includes subfolders in the search
Flexible duplicate email management options
Extensive reporting functionality