Duplicate Song Finder
Find duplicate songs by comparing music tags
Any music collection has duplicate songs. While some of the copies are intentional, for example live and studio versions of the same song, the rest of the duplicates just happen. These duplicates are really annoying because they clutter your playlists and take up lots of disk space. Worse still, they are really hard to find because they usually have different file names and are scattered all over your PC or Mac.
Easy Duplicate Finder's Music Scan mode will help you get rid of duplicate songs once and for all. This mode offers the fastest way to find duplicate songs in your music library. It combines speed, efficiency and accuracy when it comes to working with music files in all popular formats.
When you enable the music scan mode, Easy Duplicate Finder adds special parameters to its search so that only music files get scanned. The program compares music ID tags, such as Song title, Artist name, Album name, Year and Genre. Most audio files have these tags, which means that Easy Duplicate Finder will be able to find all your duplicate songs in one go.
The Music Scan mode now includes an option to match audio files by their fingerprints. You can enable this mode by going to Settings - Music Tags tab and checking the "Use fingerprint comparison mode" checkbox. By default, the music similarity threshold is set to 90% but you can always adjust its sensitivity.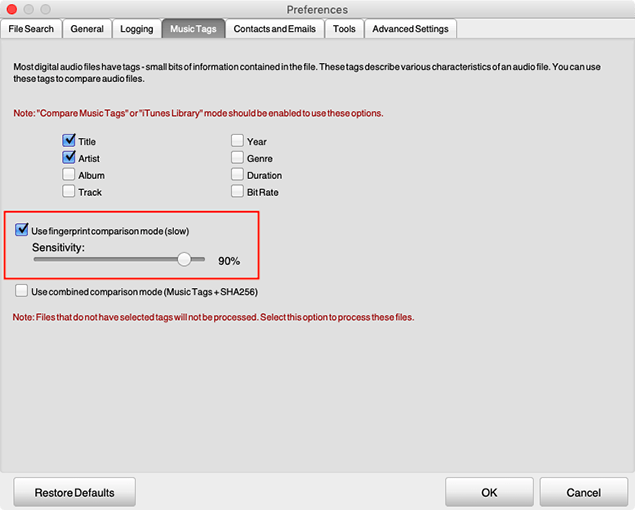 To match music files by their fingerprints, Easy Duplicate Finder uses BASS technology and compares music files by their content. An audio fingerprint is a unique representation of a particular piece of audio, which is similar to a hash. When the Music Scan mode compares two tracks using the audio fingerprint technology, Easy Duplicate Finder:
Decodes the audio track
Converts it to 5Khz, mono channel
Divides it into small parts
Calculates the hash values for each piece of audio and stores them in an array
Matches tracks by comparing their arrays of audio hash
Let's say you have two tracks that are divided into 100 audio pieces so that EDF can calculate their similarity by comparing 100 hashes one by one. If 86 of 100 hashes return the same value, then the tracks have 86% similarity.
To scan your music library using the Music Scan mode, select Music Scan from the Scan Mode drop-down menu, add some folders to the scan area and launch the scan. When finished, review the results and delete duplicate songs in one simple click. You can preview the songs before you delete or move anything to make sure that you aren't deleting a version you'd rather keep.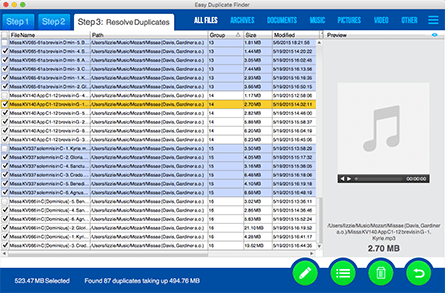 BENEFITS:
Organize your music in just a few clicks
Find duplicate songs fast
Comprehensive & accurate results
Compare music in different formats
FEATURES:
Unmatched music scan precision
Supports mp3, flac, ogg, wav, mp4, wma, m4a and more
Fast and accurate scans
Multiple duplicate file management options