Compare Folders & Find Duplicate Files
Compare files in source and target folders in a couple of clicks
Do you sometimes wish you could compare files in two or more folders, find the duplicates and then delete them from target folders without touching the originals? Ordinary duplicate finders mix the files in the search results and make it very hard for you to quickly check a specific folder for duplicates. They also make it impossible to prepare several folders for merging. Luckily, Easy Duplicate Finder is different.
Easy Duplicate Finder has a special Folder Comparison scan mode that's designed to compare files in target folders against files in source folders, making it very clear which files are duplicates and which are the originals.
Comparing files in different folders is very easy because Easy Duplicate Finder always lists the originals first in a group of duplicates. This way you'll always know which file is the master and which is a copy. The program also prevents you from accidentally deleting the originals by asking you to confirm the deletion.
To compare files in different folders with Easy Duplicate Finder, select the Folder Comparison mode from the scan mode menu, add some source and target folders, and run a scan. Then simply delete the duplicates and keep the first file in each duplicate group.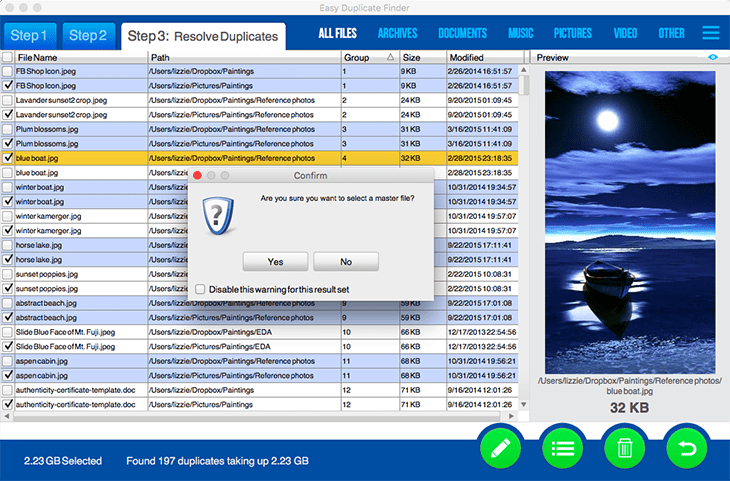 BENEFITS:
The easiest to use source/target duplicate finder
Protects master files from accidental deletion
Light on system resources
Makes it easy to merge folders
FEATURES:
Compare files in different folders to find duplicates
Keep only original files and get rid of useless copies
Preview duplicates before your delete them
Save space on your computer and merge folders easily