Real-Time Duplicate File Finder
Does your computer get cluttered with duplicate files over and over again? EDF Monitor will help you keep your PC duplicate-free at all times! It will monitor your folders for new duplicate files and let you find and delete them in real time.
How Does EDF Monitor Find Duplicate Files in Real Time?
The EDF Monitor is a handy background service that works as a real-time duplicate finder. It keeps track of new files that are added to your folders and compares them with files in directories previously scanned with Easy Duplicate Finder every 30 minutes. It then calculates the hash value for each new file and compares it to your existing files.
If EDF Monitor finds identical hashes, it notifies you of new duplicate files.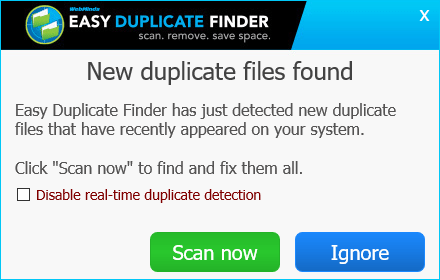 You can then click on the Scan now button run a scan with Easy Duplicate Finder and remove the new duplicate files quickly. You can also ignore the notification for the time being and get a new reminder 1 hour later.
Just like any user-friendly and reliable monitoring service, the EDF Monitor can be safely disabled. You can do that either from the pop-up notification or from Easy Duplicate Finder settings. Just check the "Disable real-time duplicate detection" and EDF Monitor will be disabled.
To switch it back on, simply uncheck the checkbox.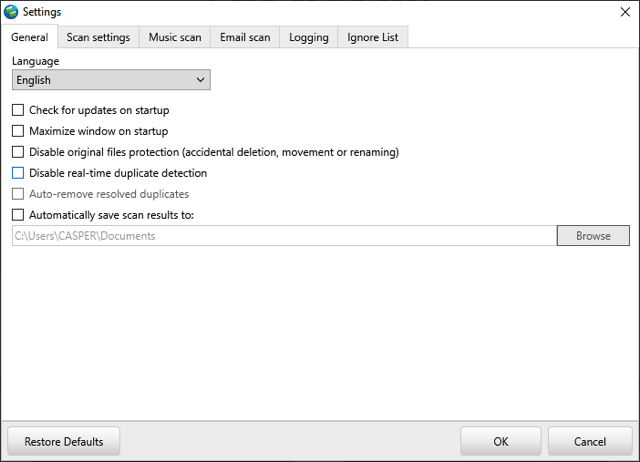 With EDF Monitor, you'll be able to find duplicate files in real time, remove them in just a couple of clicks, and keep your PC in top shape.