Remove Duplicates from Your iTunes Library
Find and delete duplicate songs in your iTunes library the easy way
If you use iTunes to listen to music, then you know how quickly it becomes filled with duplicate songs, which usually happens when you lose track of the songs you've imported and/or purchased. To save your media library, the best thing you can do is to remove those duplicate songs from iTunes.
Why Does iTunes Get Duplicate Songs?
When iTunes imports songs, it doesn't move them to a single location, but rather accepts them regardless of where the song file is. This way you end up having songs scattered all over your computer. That could be confusing, especially if there are a lot of duplicate music files in your library. This problem is even worse if you sync music to your iPhone, use Apple Music and/or Apple TV.
Older versions of iTunes used to import anything you wanted to add to your media library, including duplicate files. Although the latest version of the app looks for duplicate file names before importing new items, it is still unable to identify potential duplicates. For example, you could have songs imported from various sources with slight differences in file names. Even though the songs are the same, the different file names confuse iTunes, and it imports duplicate songs.
Depending on the size of your music library, you may end up with hundreds of duplicate songs that will clutter your playlists and make listening to music far less enjoyable.
How to Use an iTunes Duplicate Remover
iTunes has a built-in feature to delete duplicate songs, but it doesn't always work well. This function can find some duplicate music files within iTunes, but it usually misses a lot because it only matches files by their names. In addition, the built-in iTunes duplicate finder can't delete "dead" iTunes tracks, and it doesn't successfully sync across all of your devices. That's why it's a good idea to use an app that can not only find and remove duplicate music, but also sync the results across all of your devices and help you delete dead iTunes tracks.
Easy Duplicate Finder's iTunes duplicate finder will help you to manage your iTunes library quickly and easily. And, even if you're using iTunes with another media management app, Easy Duplicate Finder also features duplicate song removal for files outside of iTunes.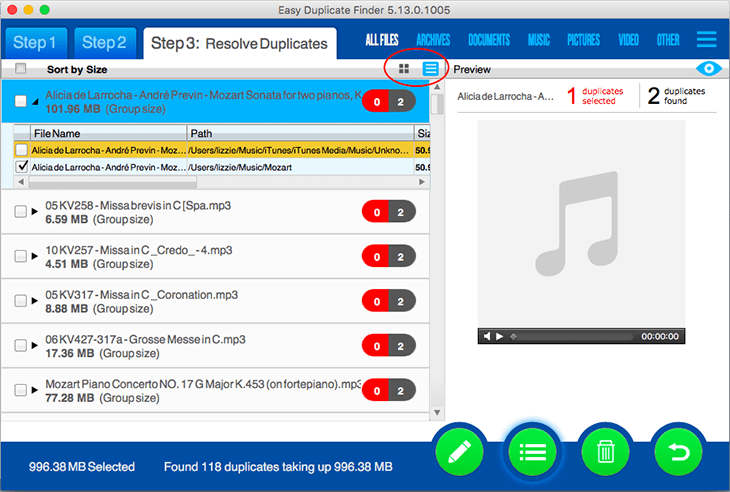 Easy Duplicate Finder pre-selects duplicate tracks for your convenience, but you are welcome to change the selection the way you want to. To adjust the bulk selection, click on the pencil button and select the option that works best for you.
When you are ready to delete duplicates from iTunes, click on the trash can button or use the list button to access more file management functions; Easy Duplicate Finder will delete duplicate songs from your iTunes library in no time.
One of the main advantages of this iTunes duplicate finder is that it deletes duplicate music tracks both from iTunes and the folders where the media files live. And, if your computer connects to the Internet, Easy Duplicate Finder will sync the changes across all your devices that use iTunes, so that the duplicates will never come back.
The iTunes Scan mode can also match audio files by their fingerprints. To enable this mode, go to Settings - Music Tags tab and check the "Use fingerprint comparison mode" checkbox. The music similarity threshold is set to 90% by default but you can always adjust its sensitivity.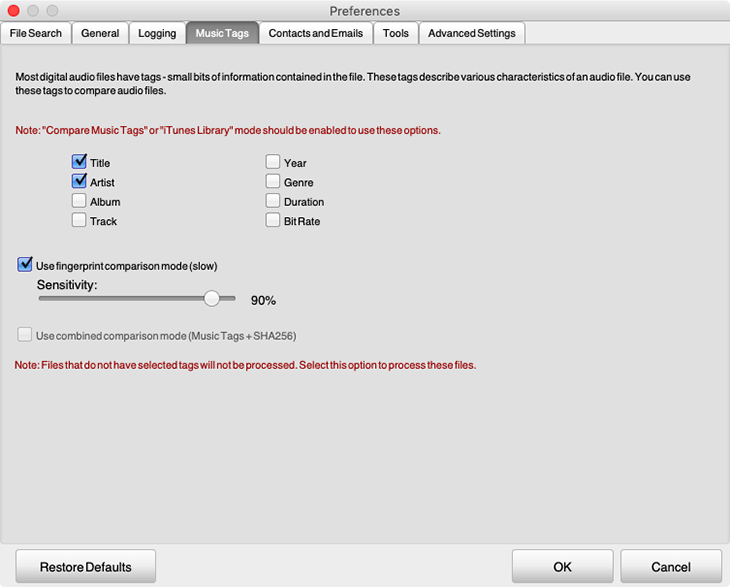 Easy Duplicate Finder uses BASS technology to compare music files by their fingerprints and match them by their content. An audio fingerprint is similar to a hash and it's a unique representation of a piece of audio. Using the fingerprint comparison mode takes longer than the ordinary iTunes scan, but the results are a lot more accurate.
Other Things You Can Do to Keep Your iTunes Library Organized
The best way to keep your iTunes library clean is to make sure that the folders containing your music files are well-structured and you remove invalid tracks from iTunes on a regular basis.
While organizing your folder structure is something you should do manually, Easy Duplicate Finder can help you to delete "dead" iTunes tracks from your library quickly and easily:
Go to program settings and click on the Tools tab
Click on the Track Cleaner button
The Track Cleaner utility will open
Click on the Start button to launch the cleanup
Another good digital housekeeping strategy is to delete empty folders from your computer. These folders don't take up space, but they make things confusing. Easy Duplicate Finder can help you with the task - just select the Empty Folders scan mode from the scan modes drop-down menu and follow the program's instructions.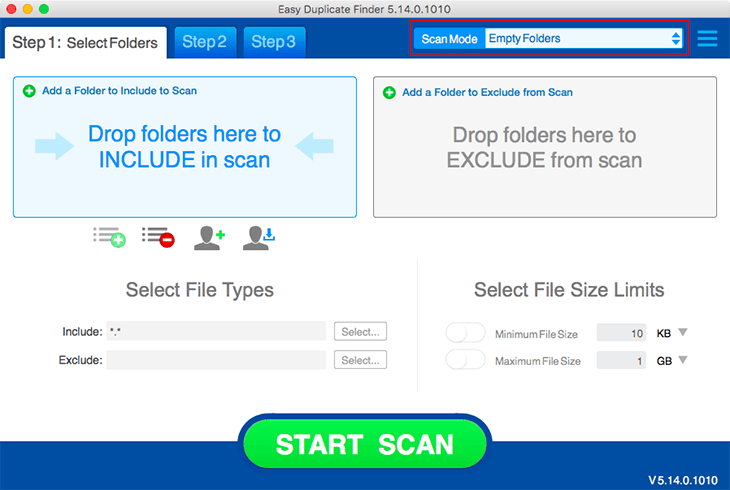 With our iTunes duplicate finder, your iTunes library will be free of annoying duplicate songs and your playlists will be fun to listen to again.