Duplicate Music Track Finder
Find and Delete Duplicate Songs In Your iTunes Library With Ease!
If you are an iTunes user − you may be all too familiar with the pain of duplicate songs appearing in your library. Easy Duplicate Finder's smart technology will enable you to find these duplicate tracks with ease and remove them − no manual searching required.
When iTunes imports songs, it doesn't move them to a single location but rather accepts them regardless of where the song file is, leaving you with songs scattered all over your computer. This can lead to many duplicate music files in your library. If you're syncing music to your iPhone, using Apple Music and/or Apple TV, the problem can be even worse!
Although the latest version of iTunes looks for duplicate file names before importing new items, it is still unable to identify potential duplicates. For example, you could have songs imported from various sources with slight differences in the file names.
Depending on the size of your music library, you may end up with hundreds of duplicate songs cluttering your playlists. Easy Duplicate Finder will leave your music collection well-organized and tidy so you can concentrate on the important things − listening to great music.
Smart Technology That Compares Music Files by Content − Not Title
While iTunes has a feature to find and delete duplicate songs, it doesn't always work, and has known problems when it comes to matching files by name, deleting "dead" tracks (tracks who's files have been deleted and no longer play through the app), and syncing across devices.
Easy Duplicate Finder can do all this and more, with its smart technology that compares music files by their "audio fingerprints" and matches them by their content. An audio fingerprint is similar to a hash, and is a unique representation of a piece of audio. Using the fingerprint comparison mode takes a little longer than the ordinary iTunes scan, but the results are a lot more accurate.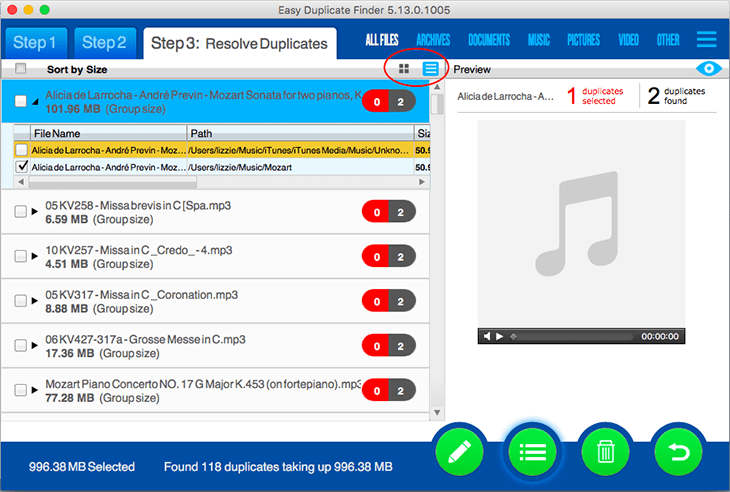 BENEFITS:
The fastest duplicate music track finder
Organize your music collection with ease
Delete duplicate tracks with one click
Free up your computer's storage space
FEATURES:
Find and remove "dead" tracks
Find and remove duplicates despite different file names
Delete duplicate tracks from both iTunes and the folders where the media files are located
Sync across all devices and say goodbye to duplicates forever!