Simply the Best Duplicate File Finder for Windows, Mac and the Cloud
Easy Duplicate Finder uses smart technology to seamlessly find and remove true duplicates.
Duplicate files on our devices accumulate over time and and can seriously impact your computer's performance, not to mention available hard drive space. Often times, the more files you have on your hard drive, HDD or SSD, the slower your computer ultimately becomes. That's why it's so important to keep only the files you need and delete or move the rest.
Performance isn't the only thing affected by having duplicate files on your computer. Other issues include:
Antivirus and malware scans take longer because they need more time to process more files.
If you're using a Mac, the "Spotlight" feature needs more time to find the files that you're looking for.
Cloud backups not only take longer, but take up more precious space, which could increase your cloud storage costs.
Easy Duplicate Finder™ frees up valuable storage space on your computer, improves your computer's performance and allows you to find and remove duplicate files in just a few clicks! Blazing fast with an intuitive interface, the app is incredibly easy to use. And, Easy Duplicate Finder features smart technology that searches for true duplicates and not just those with the same file name.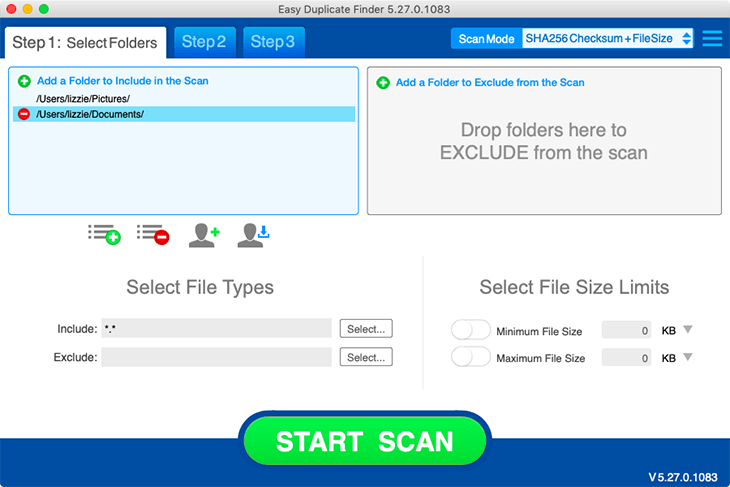 Easy Duplicate Finder Features & Functionality
Easy Duplicate Finder™ is a very versatile, yet easy to use duplicate file finder. It has everything you need to find and delete duplicate documents, images, music files, videos, emails and more. Benefits and features include:
Several scan modes for different types of searches, including file search, email, photos, contacts and music.
For Mac users, the app also features the ability to find and delete duplicates in iTunes, iPhoto and Photos.
Remove duplicates from Cloud-storage services like Google Drive and Dropbox.
Folder comparison mode that looks for file copies where one folder is selected as the master and the others are compared against it.
Easy Duplicate Finder uses smart technology to identify true duplicates, not just those of the same file type, file size or file extension.
Get Easy Duplicate Finder Today!
How to Find Duplicate Files & Remove Them with Easy Duplicate Finder
Download Easy Duplicate Finder

To get started, download Easy Duplicate Finder for Windows or Mac. Then, follow the steps to install it on your computer.

Set your Scan Mode

Duplicate file finder for Windows: When the installation is complete, open the app and set it to scan your entire hard drive or SSD using File Search mode.

Duplicate file finder for Mac: Select the "Scan Mode" that's right for you, including scans of music for iTunes and images for iPhoto.

Sit Back and Relax

Depending on how many files you have on your computer, the Scan process could take a little while.

Review Results

After the scan is complete, review the app's results for identical files, including audio, video, documents and more.

One-Click Duplicate Removal

Easy Duplicate Finder automatically suggests which files you should delete, but this can always be changed depending on your preferences. When you're ready, select your file management preferences or click a button to automatically move your duplicates to the trash. Yes. It's that easy.

Extra Security: Undo & File Recovery

If you accidentally delete a file that you didn't wish to, don't panic! Easy Duplicate Finder comes with a handy "Undo" feature, which will recover files that were mistakenly removed.