Easy Duplicate Finder's Duplicate Outlook Email Finder
Remove duplicate Outlook emails quickly and accurately
When you think about duplicate files, it's usually duplicate photos, videos and songs that come to mind. You often don't think of duplicate emails, even though your inbox is a perfect place to accumulate unwanted and unnecessary duplicates. Duplicate emails clutter your mailbox, and can wreak havoc on your productivity -- rather than spending time on what matters most, you're stuck wading through identical or almost identical emails!
Luckily, you can easily eliminate duplicate emails in Microsoft Outlook hassle-free. Easy Duplicate Finder™ will help you find and delete duplicate emails & contacts in all of your Microsoft Outlook folders in just a few clicks!
Easy Duplicate Finder™ is the industry-leading duplicate email finder for Microsoft Outlook. The app has total accuracy and reliability − it won't leave a single duplicate email or contact forgotten! Easy Duplicate Finder™ detects duplicates by expertly checking email subjects, dates, recipients or senders, body sizes and even the contents of the emails. With Easy Duplicate Finder™ you can be 100% confident that you're getting rid of clutter, while keeping your important messages safe! Plus, with the ability to preview the duplicates before removing them, and the always-appreciated "undo" button at your disposal, you're in control.
To enable Duplicate Email Finder, select the Email Mode from the Scan Mode drop-down menu. This will activate Easy Duplicate Finder's email search algorithm. Then add your email folders to the scan area and start the scan.
When the scan is complete, you will be able to review the results and select the duplicate emails you wish to delete. Click the pencil icon and choose the bulk selection option that works best to select all your unwanted emails. Then click on the bin icon button and remove duplicate emails in one go.
To address any bloat to your Microsoft Outlook inbox count on Easy Duplicate Finder™ to help get you organized. Free up valuable space in your inbox today!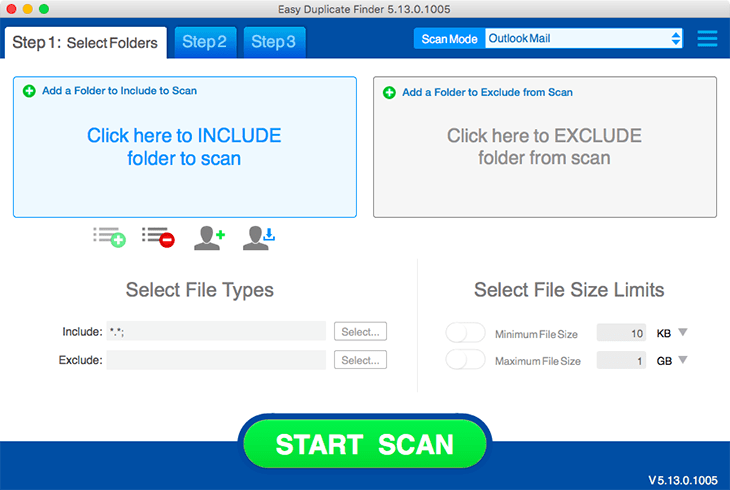 BENEFITS
Organize your Microsoft Outlook emails and contacts with just a few clicks.
Free up valuable storage space.
Save on the time needed for manual email searches and sorting.
Recover disk space.
FEATURES
100% accuracy to remove email clutter, while keeping your important messages safe.
Identify and remove duplicates in your inbox and any subfolders.
Flexible duplicate email management options.
Extensive built-in reporting functionality.
Remove duplicate documents, emails, contacts and more!