How to Delete Duplicates in iTunes
iTunes is a great app for music lovers because it works on nearly all devices, makes it easy to create playlists, and syncs your music automatically. Originally an Apple app, iTunes quickly made its way to Windows and became the music player of choice for many. However, there is one problem that iTunes can't seem to fix - duplicate audio files. Sometimes iTunes duplicates individual tracks, but you can even get duplicate albums.
iTunes duplicates can be really annoying because they are huge space-wasters and they mess up your playlists. That's why it's best to delete them as soon as you can. This article will show you how to delete duplicates in iTunes the easy way.
Make Sure iTunes Is Not Importing Duplicates
The first thing you should do is make sure iTunes doesn't import duplicate music tracks or CD rips. If you have an outdated version of iTunes, then you should update immediately because the latest version doesn't import duplicates anymore (previous versions imported whatever you put there, even if a song already existed in your library). Nevertheless, it's still a good idea to check that iTunes is managing your music properly. Here is how:
Click on iTunes and go to Preferences, then click Advanced
Find the Keep iTunes Media folder organized and make sure the checkbox is selected
Then make sure the Copy files to iTunes Media Folder when adding to Library is checked, too
Now click Reset all dialog warnings and click OK
Now your iTunes should be in good shape for future imports. That doesn't mean that your current duplicates are gone, though. So, let's clean them out!
Method 1: Manual Deletion
If you don't have an iTunes duplicate finder at hand, you can do some basic cleanup manually. iTunes has a very basic built-in tool that can identify exact duplicates that have exactly the same parameters. Using the tool is a good start for cleaning up your music.
iTunes 12 makes it a bit harder to find the option to check for duplicates and delete them:
Click on File > Library and select Show Duplicate Items.

iTunes will display the duplicates but it will be really hard to see what's what because of how it displays them.

Selecting Same Album instead of All will help you a bit. But then again, you'll need to return to All once you've cleaned up a specific Album. Another helpful thing is to sort the songs by time stamp.
Alternatively, sort files by Name to have duplicates appear next to each other (this doesn't work for albums where the songs have the same name, like my Mozart CD. So if you haven't organized your music yet, check out this article for tips and tricks).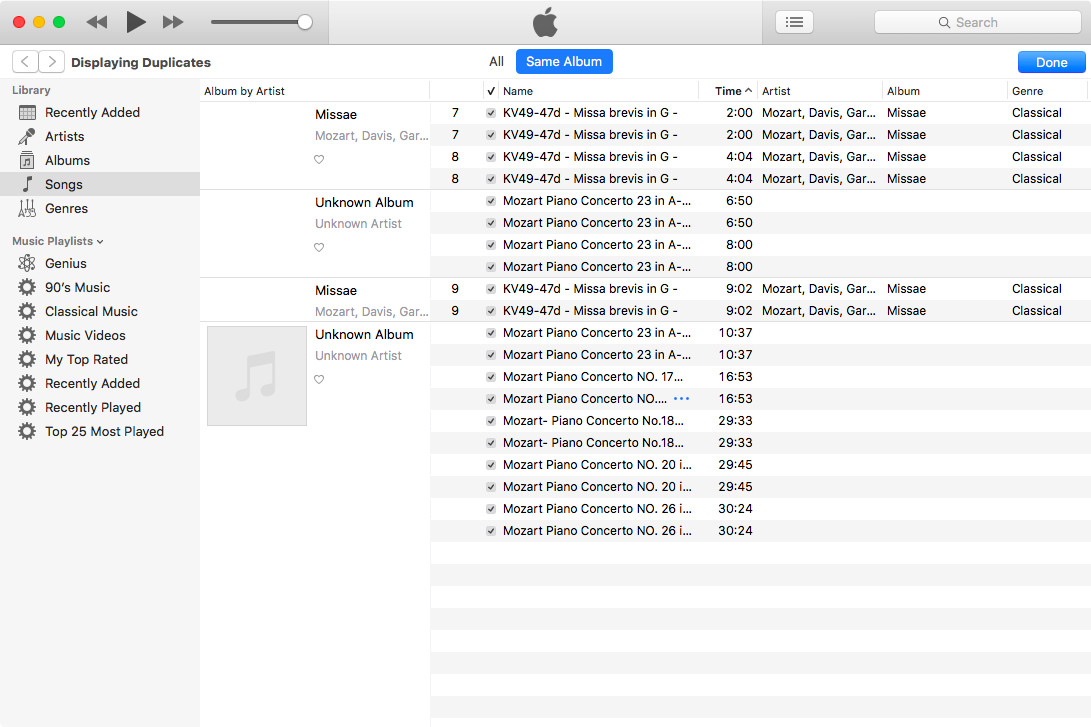 Now go through the tracks and delete the duplicates you don't want to keep. To do that, click on the unwanted file and hit the Delete key. iTunes will warn you that deleting the song will delete it from all synced devices. Click on Delete Song to erase the track.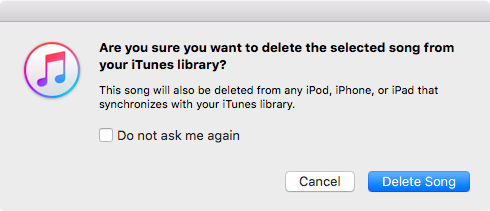 When you're using iTunes to manage duplicates, remember that iTunes matches files based on the Song and Artist parameters. This means that it will display songs from different albums as duplicates even if they aren't exact copies. For example, it will mark live and studio versions of a song as copies because song name and artist tags are the same. This is not ideal because it may lead to your deleting items that aren't duplicate files.
Method 2: Use Scripts (Older iTunes Versions)
Another way to detect duplicates in iTunes is to use scripts written to detect and remove iTunes duplicate tracks. There are scripts that can do the job for both Mac and Windows but it only makes sense to use them on older iTunes version, only after you've tried manual deletion.
The most popular script for managing duplicate tracks is DeDuper. According to the developer, it's quite slow on large libraries and less powerful non-Apple hardware and it needs tweaking on non-English versions of Windows. However, it still works and you could give it a try - just don't forget to back up your entire iTunes library before you run it.
Method 3: Delete Duplicates in iTunes Automatically
The easiest way to delete duplicates in iTunes and sync the results across all your devices is to use an app that can do all the work for you. With an automatic iTunes duplicate remover, you'll be able to quickly clean up and organize even a huge music library in minutes instead of hours.
You may be asking yourself why bother installing an app instead of using the "Show duplicate items" iTunes menu item. Here are some reasons:
Reliability - iTunes' built-in option compares songs by file names only, which may provide inaccurate results. An app like Easy Duplicate Finder can compare music files using a number of criteria and ensure that no false duplicates are selected or deleted.
Custom music comparison methods - look for a duplicate finder that uses BASS audio fingerprinting technology to match songs by their content and detect similarities. This is the most accurate music comparison method available today.
Ease of use - with a third-party app you'll be able to bulk-select duplicates and delete them in one click.
Protection against accidents - look for a program that lets you preview your iTunes music before you delete the duplicates and has an undo feature to let you undelete accidentally removed music.
Easy Duplicate Finder's iTunes duplicate remover includes all of the above-mentioned features, which make it a highly reliable, easy to use, and fast solution for dealing with iTunes duplicates.