Duplicate Removal Utility - Duplicate Photo Finder
Duplicate Photo Finder
Easy Duplicate Finder™ is the simplest way to look after the condition of your photo collection
Easy Duplicate Finder™ can scan for duplicate image files quickly and accurately. The advanced searching algorithms make scanning effective and precise. While scanning for duplicates the tool detects many types of image files so you can be sure that it won't leave out a single duplicate photo.
Predefined search parameters quickly and easy find duplicate image files. Simply click on the "File Types" button and choose 'Image Files'. When the scan is run any file that has a common image file extension will be analyzed and checked for duplicates. Afterwards the list of duplicate files can be sorted, exported to an HTML report, and acted upon (duplicate files can be deleted, renamed, moved, or copied).
Search example: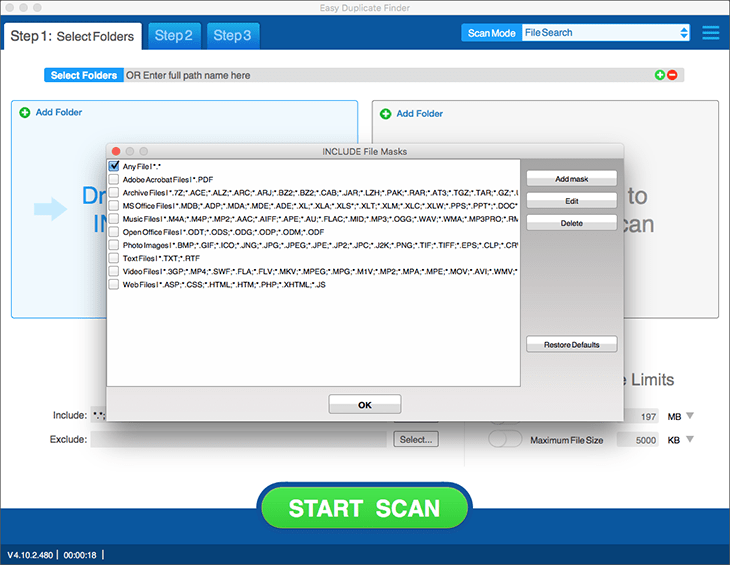 An incredibly simple design comes with a number of adjustment options. You can select complete scan or specify folders for scanning. Additionally, you can alter the order, in which images are scanned, change the minimum size of pictures and the required level of similarity.
Just some of the supported photo and graphics formats:
JPEG
TIFF
BMP
PNG
GIF
You can adjust file comparison criteria during scanning for CRC32 Checksum or for Byte-by-Byte. Checksum comparison involves reading the file from the beginning to the end and generating a unique number calculated based on its contents. This number is stored and used to compare the contents to other files (using the same method) to determine if they are truly identical. If you plan on regularly checking for duplicates, it is recommended you choose this method.
The byte-by-byte method reads the entire contents of two files and checked for equality in parallel. This method is very accurate but tends to take longer, particularly for large files (such as digital image files). For this reason we recommend that when searching for image files that you choose the CRC32 comparison method.