Ahorre espacio de Google Drive buscando y eliminando duplicados
A Fast and Easy Solution to Free Up Valuable Space
In today's digital economy, there is a wide array of technology available at our fingertips that allows us to stay connected and work more efficiently. We're able to share and store large quantities of information in the form of video, photo, and other files -- more than ever before. However, when you're on the go or collaborating online with team members, you may not always be aware of what's stored in your Google Drive. Soon enough, you've amassed countless unnecessary duplicate files that slow down your workflow and make it difficult to enjoy all the features Google Drive has to offer. Thankfully, we've got the one-stop-shop solution… Easy Duplicate Finder™ helps you quickly identify your duplicate files, and remove them all in just a few clicks. It really is that easy.
Easy Duplicate Finder™ is the industry leader in finding true duplicate files in Google Drive using smart technology that looks beyond the file name. Best of all, the app works in Cloud, so there's no need to download any of your Google Drive files to your computer. Avoid spending hours trying to find and remove duplicate files in Google Drive. Free up valuable space quickly and accurately today with Easy Duplicate Finder™!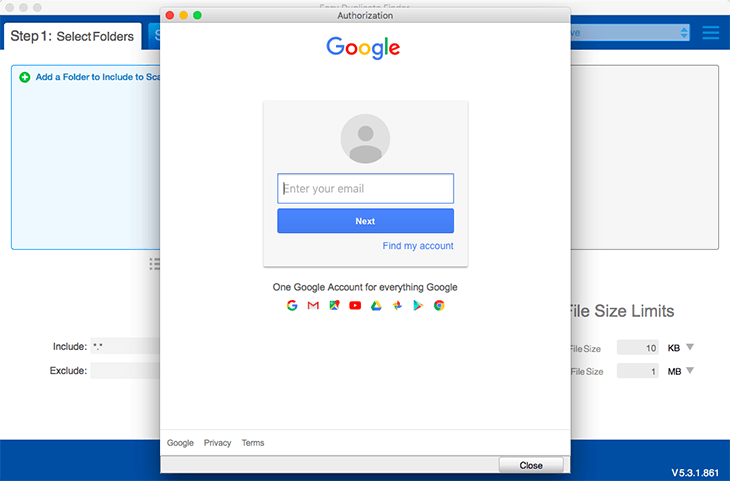 Beneficios y Características Clave
Identifique los duplicados de Google Drive de manera inteligente y fácil.
100% Cloud-based solution -- no need to download files to your computer!
Elimine duplicados de Google Sheets, Google Docs, videos, fotos y más..
Our app is impressively light on system resources and bandwidth.
Consiga liberar espacio en Google Drive with just a few clicks.
Easy Duplicate Finder™ works seamlessly with many other solutions, including almost any kind of duplicate file on your Mac or Windows computer.
Do more with Easy Duplicate Finder™in the Cloud! The app works with other cloud-based solutions like Dropbox.
Get Started with Easy Duplicate Finder™ Today to Identify and Remove Unwanted Duplicate Files in Google Drive!
How to Get Rid of Duplicate Files in Google Drive Forever
Descargue Easy Duplicate Finder

To get started, download Easy Duplicate Finder™ para PC or Mac. Then, follow the steps to install it on your computer.

Busque archivos duplicados

Once you've launched the app, select 'Google Drive' under 'Scan Mode'. Then, log into your Google account, and give Easy Duplicate Finder™ access. When access is granted, the program will start scanning your Google Drive file's metadata to identify duplicates.

Review Results and Delete Duplicate Files

When the scan finishes, review the list of duplicate audio, video and document files identified as duplicates. You can preview the files, select which ones you'd like to keep and seamlessly remove duplicates from Google Drive - all with one click.