Google Drive Duplicate Finder & Remover
Find duplicate files on Google Drive quickly and easily
Have you ever wondered how many duplicate files you have on your Google Drive? In the past finding duplicates on a Cloud-based service was really hard - you either had to download all the files to scan them with a duplicate finder or compare them manually online. But, not anymore!
Easy Duplicate Finder will help you find duplicate files on Google Drive in an efficient and hassle-free way. It will check your Google Drive for true duplicates and make it possible to delete the files that you don't need in one click.
The best bit is that you don't have to download any files from your Google Drive because Easy Duplicate Finder does everything in the Cloud. All it needs is access to the metadata for all of the files that you have stored in Drive -- it doesn't matter if they're video, audio, or documents.
Allowing Easy Duplicate Finder to access the metadata associated with your files lets you scan Drive for duplicates without using up a lot of Internet traffic and bandwidth. There is also no need to sync the results after you delete duplicates from Google Drive with Easy Duplicate Finder because everything happens in the Cloud and Google automatically saves all changes. And if you delete a file by accident, you can always use Easy Duplicate Finder's Undo feature to put it back.
Google Drive Duplicate Finder Benefits & Key Features
The easiest to use Google Drive duplicate finder
No files are downloaded from Drive-- everything is done in the Cloud
Light on system resources and your bandwidth
Frees up space in Google Drive, saving you money if you have the paid version
Delete duplicates from Google Drive without any downloads
Preview Google Drive files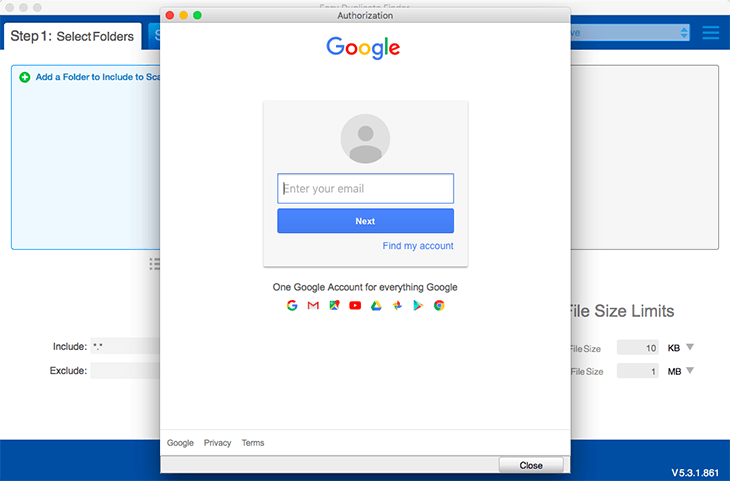 Using Easy Duplicate Finder for Google Drive
Finding and removing duplicate files in Google Drive is super easy with Easy Duplicate Finder.
Download Easy Duplicate Finder
To get started, download Easy Duplicate Finder for Mac or for Windows. Once the file is downloaded, follow the steps through the installation process.
Update Your Scan Mode
Once you have Easy Duplicate Finder launched, be sure to select "Google Drive" under "Scan Mode." Then, log into your Google account, grant Easy Duplicate Finder access. When access is granted, the program will start scanning your Google Drive file's metadata to identify duplicates.
Review Results
When Easy Duplicate Finder is finished, you'll be presented with a list of duplicate audio, video and document files for removal. You can preview the files, select which files you want to keep and seamlessly remove duplicates from Google Drive in just one click.
If you accidentally remove a file that you wanted to keep, Easy Duplicate Finder offers a super handy "Undo" feature, which will revert any deleted file.
Remove unnecessary duplicate files in Google Drive today and free up valuable space in the Cloud with Easy Duplicate Finder!