Duplicate File Finder & Remover for Mac
Clean your Mac the easy way!
Does your Mac have duplicate files? Most likely, you have gigabytes of them. Duplicate files can seriously affect your Mac's performance. Your Mac's speed is directly connected to disk space usage and especially the number of files on your desktop. The more files there are, the slower your Mac becomes. That's why it's so important to keep only the files you need and delete or move the rest. Duplicate files are definitely the ones that should go.
With Easy Duplicate Finder™ for Mac you can redeem disk space in a quick and easy way. Easy Duplicate Finder™ identifies and removes duplicates that waste valuable disk space, increases your Mac's performance and improves your productivity.
With Easy Duplicate Finder™ you can search for duplicate files by name, modification date, folders, and file content. In addition to that, the app will help you find and delete duplicates in iTunes, iPhoto and Photos in just a couple of clicks.
Easy Duplicate Finder™ will help you find and manage all types of duplicate files. It has 13 scan modes for all sorts of file types including documents, images, videos, audio files, emails, contacts and more. Plus it can find duplicates in Dropbox and Google Drive by connecting to them in the Cloud.
With its powerful multitasking capability Easy Duplicate Finder™ can execute simultaneous searches, so that you can take advantage of the latest functionality on Mac computers and OS X operating systems without experiencing any speed delays. Managing duplicate files with Easy Duplicate Finder™ is fast, easy and fun!
Benefits & Key Features
Aside for the obvious, there are a ton of great benefits for using Easy Duplicate Finder to clean up your Mac!
Find and delete duplicate files in just a couple of clicks
Make your Mac faster and more organized
Manage your iTunes, Photos and iPhoto libraries
Decrease backup size and time
Find & manage all types of duplicates
Powerful, fast and accurate search algorithms
Move, rename or delete duplicates in one click
Optimized for Mac OS X
How to Remove Duplicate Files on Windows
Download Easy Duplicate Finder onto your Mac and complete the install process. Then, open the app and select your scan settings.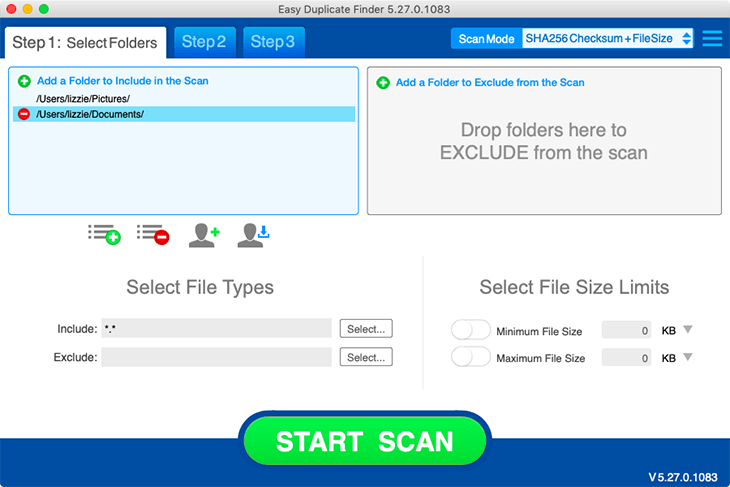 Once you've set your preferences, click the Start Scan button to begin finding duplicate files on your Mac. Depending on how many files you have, this process could take a little while.
When the scan has finished, simply review the results and remove the files that you no longer want. Easy Duplicate Finder will automatically preselect the files for removal, but you can always override these recommendations with your own preferences.
Easy Duplicate Finder also offers other tools to make sure that you keeping the correct files. When you're ready, select your file management preferences or click a button to automatically move your duplicates to the trash. Yes. It's that easy.